Juvenile Detention Writing Workshop
In March 2005, I began to voluntarily run a poetry workshop with the teens incarcerated at Denney Juvenile Justice Center. The poetry workshop was inspired by Pongo Teen Writing  and the Free Minds Book Club and Writing Workshop. In the Denney Poetry Workshop, we read young adult novels and memoirs with topics such as: addiction, love, romance, and teen pregnancy. We write poetry and flash fiction drawn from the youth's life experiences.
Denney Juvenile Justice Center is lucky to have The Blanche Miller Art Exhibit Program which hires local artists to work with the teens in small group workshops. As a part of this workshop, we have published four books of the youth's poems. Call It Courage, Please Brave Me Dry These Tears, and Because I Wanted to Be Love. These books can be viewed on our blog at www.denneypoetry.com
Other funding for the workshops has been provided by: BECU School Grants, Tulalip Tribes, and The Everett School District Foundation.

My writing work is often inspired by the youth in the detention center poetry.  My young adult novel, Weaving Magic, was heavily inspired by the poetry workshop, as are the following flash fiction pieces:
"Jailbirds," published on Sarah LaPolla's blog, Glass Cases.   Two teens are in jail. But who really committed the crime?
"Girls Unit 2W" Published in Edmond's Community College Literary Journal, Between the Lines,(Fall 2010).
"Night Crimes", published on Sarah LaPolla's blog, Glass Cases  Things are not always as they seem in this quick piece of fiction about a gang leader and his night-time activities.
"Directions" published on Glass Cases. How to enter the juvenile detention center flash fiction.

Select Artwork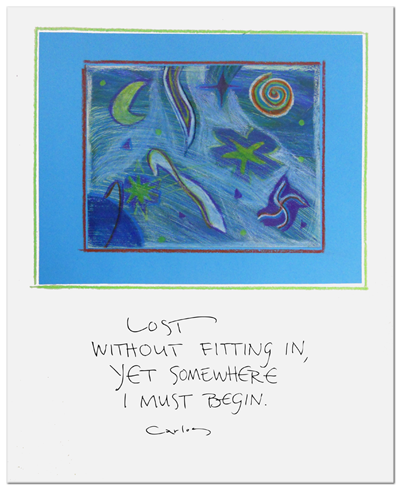 Select Poetry

I AM
I am a blue diamond spiral.

I am a Cadillac Escalade Infinity and beyond.
I am Skittles from the rainbow.
I am a blue berry tree with emotional pain.
I am a microphone from California.
I am a bed where thugs cry.
I am a pit bull who buzzes around town.

Published in Call It Courage, August 2006.

THE MONSTER WITHIN
There's a monster within me

It's anything but sane
It's anything but tame
I hope me and it never become one and the same.
It's full of an evil blind rage
Locked away, inside me
Like a wild bird in a cage
Just waiting for a chance to escape and fly free.
I hope me and it never become one and the same.
For the monster within will never
be completely tame.

Written in the YA/Memoir Poetry Workshop, June 2011
Important Blog Links:
Denney Poetry
www.denneypoetry.com
Denney Art
www.denneyart.com