Juvenile Detention Writing Workshop
From March 2005 to May 2013, I voluntarily ran a poetry workshop with the teens incarcerated at Denney Juvenile Justice Center. The poetry workshop was inspired by Pongo Teen Writing  and the Free Minds Book Club and Writing Workshop. In the Denney Poetry Workshop, we read young adult novels and memoirs with topics such as: addiction, love, romance, and teen pregnancy. We wrote poetry and flash fiction drawn from the youth's life experiences.
Kids in Orange: Voices from Juvenile Detention is a memoir written about the experience of running the poetry workshop. The workshop also inspired the characters in my middle grade novel, Seymour's Secret as well as my young adult novel, Weaving Magic.
Denney Juvenile Justice Center is lucky to have The Blanche Miller Art Exhibit Program which hires local artists to work with the teens in small group workshops. We published four books of the youth's poems. Call It Courage, Please Brave Me Dry These Tears, and Because I Wanted to Be Love. These books can be viewed on our blog at http://www.denneypoetry.org
Other funding for the workshops has been provided by: BECU School Grants, Tulalip Tribes, and The Everett School District Foundation.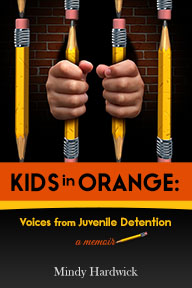 The gang leader doesn't like poetry, but will a detention center workshop show her how to express love for her newborn daughter?  A teen boy dies of a drug overdose. Will his final poem speak what he cannot say?
In the middle of a career change from teacher to writer, Mindy Hardwick volunteered to facilitate a weekly poetry workshop at a juvenile detention center. By helping the teens write poetry about their lives, Mindy discovered strength and courage to grieve the loss of her father, find forgiveness and release the past.
A portion of the proceeds from this book will be used as a grant to hire writers to work with teens at Denney Juvenile Justice Center.
Please visit the book's Facebook page.

Save
Save
Save
Save
Save
Save
Save
Save
Save
Save
Save