Workshops
Mindy offers both student and teacher workshops to libraries, community groups, schools, or facilities for at-risk youth. Her favorite ages are 6th-9th grades. Workshops may be scheduled for three, two, or one classroom group session of 45-60 minutes. The workshops include writing exercises and sharing. The sessions often include integration of children's and young adult literature. Mindy is a former middle/high school teacher and is more than willing to work with you on presentation topics which will fit your curriculum needs.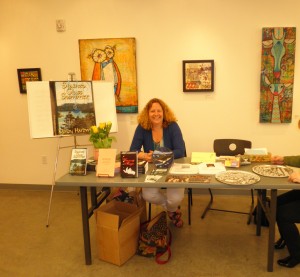 Book Signing at Teen Art Night
Mindy offers a free, 20-minute Q & A Skype visit to any class, book group, bookstore, or youth organization who has read KIDS IN ORANGE: VOICES FROM JUVENILE DETENTION and/or SEYMOUR'S SECRET. To read more about Skype visits and preparing students, please read this great blog post by Kate Messner.
School Visit Recommendation from Everett High School Librarian:
My students love it when local authors participate in our EHS Writers' Café sessions………to my delight, I recently had a former student return to tell me that he had written a book because he was inspired by the personal story that a local author had shared with him at a Writers' Café.  We discussed publishing options and he is considering the ebook path that Mindy had chosen.  I can't praise or thank our local authors enough for spending time with my students! –Deb Payne Everett High Librarian
Young Writer Fan–Ashley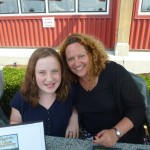 Please contact Mindy for scheduling, pricing information, or to discuss other workshop topics.


Writing From Life: Flash Fiction
Flash fiction. It's short. It's fast, and it's fun. In this workshop, Mindy will lead us through a series of exercises which "mine our memories" for ideas. Then, we'll take those rich ideas and turn them into pieces of flash fiction. Recommended for grades 8th through high school and/or adult workshops. Mindy's flash fiction has been published in Edmond's Community College Literary Journal, Between the Lines, Sarah LaPolla's blog, Glass Cases, and Moon Washed Kisses.(Jan 2011). This workshop is based on Mindy's experience running a poetry workshop at Denney Juvenile Justice Center.   To learn more about the program, please visit our blog: www.denneypoetry.org

Writing the Young Adult Romance
Falling in love. It's the topic which is most often explored in young adult novels. So, how do we dive into the complexities of writing about that special teen romance? From that first meeting to the final break-up, we'll explore how to write young adult romance by looking at young adult romance novel excerpts ranging from older titles such as: Seventeenth Summer and Summer of My German Soldier, to more contemporary such as: Perfect Chemistry. The workshop works best for older teens or adults wanting to write for teens. It may be scheduled as a ninety-minute session or a more in-depth four week workshop.

The Unreliable Narrator in Young Adult Fiction
Bring your liars, thieves, and other unsavory young adult characters as we explore how to tell the story through the eyes of the unreliable young adult narrator. What makes a narrator unreliable? How can we tell a story through his/her eyes without alienating our readers? We'll explore the unreliable narrator in all his/her complexities as we look at young adult novel excerpts from: Inexcusable by Chris Lynch,Invisible by Pete Hautman, and Liar by Justine Larbalestier. The workshop works best for students in 8th grade through high school.

Tell Your Story: Poetry and Art Journal Workshop for Girls Ages 10-14
You are the hero/heroine of your life. What story are you telling? In this workshop we'll explore how our hopes and dreams, treasures and secrets, monsters and scars can inspire poetry and art journaling.  Learn new ways to write poems and how art journaling can help you express more of your story. Bring your favorite photos, quotes and poems. This is a great workshop for small groups of girls involved in team building, leadership, girl empowerment, and book groups. Parts of this workshop can be modified for class size workshops.

Artist Characters:
In this workshop, we'll look at how art can inspire us to create a character. We'll dig into the nuts and bolts of character building including crafting a character's physical and psychological traits. We'll write character sketches of both the protagonist and the antagonist—all through the lens of an artist. This workshop draws on Mindy's character, Jasmine, in her novel, Stained Glass Summer. This is a great workshop for schools wanting presentations to different age groups. The workshop can be adapted to meet the needs of all age of learners.

Collage Poetry
Explore the world of poetry through this fun, hands-on poetry workshop. We'll look at some artistic collages and read poetry written by young people found in poetry books such as Paint Me Like I Am and Tell the World. Then, we'll write our own poems inspired by quick and easy collages that we create. This workshop works best with small groups in libraries or after school/community based clubs. It would also work well in creative residency week-long settings. This is a great workshop for younger students in elementary grades through middle school, and a fun workshop for April Poetry Month.

Writing the Picture Book
Picture books. They are the most beloved story form of children's writing. But, how easy is it to write a picture book and how can understanding picture book writing help writers who are working on longer stories? In this workshop, we will discuss how to create a memorable character as well as how to structure a picture book. The workshop includes hands on writing exercises and is perfect for writers and educators who want to better understand how to work with and teach the elements of story. Mindy will also share the process of writing her picture book, FINDERS KEEPERS. (MeeGenius Publishing, 2014).

Writing a Supernatural Story
Ghosts, vampires, surreal stories that scare—come explore the world of the supernatural short story. In this workshop, we'll look at authors such as Avi's Strange Happenings, and Paul Fleischman's Graven Images as we identify elements authors use in creating the world of the supernatural. We'll try our hand at some writing exercises designed to help you find the ghost lurking in the corners of your stories! This is a great workshop for middle or high school students around Halloween!

Summer Adventures
Do you have an exciting summer adventure to share? Maybe you solved a mystery at camp, rode the waves of a hurricane, or wiped out on a jet ski. This session is based on Mindy's middle grade novel, Stained Glass Summer and her short story, "Hurricanes" published in Summer Shorts: A Short Story Anthology. Writers will find ideas for how to write their own summer adventure stories based on magic seashells. This is a great "Back-To-School" or "Getting Ready for Summer Vacation" workshop.

What's Your Story for Seniors
Do you have a family tale you love to recount? Or how about a travel adventure or a story of overcoming? In this workshop, we'll use the hero's journey to structure how to tell those tales. We'll look at you as the hero as you set out on that journey, who you meet along the way, obstacles you overcome and what you learn at the end. This is a great kick-off workshop for those wanting to write memoir.                                                                                                                                                                                    

Revision
Seeing Our Stories Again and Again-Revision. The word no one likes to hear. But without revision, we do not have strong stories. In this workshop, students will explore revisions in a story including how to shift point of view and tense, revise for structure, and revise character. This workshop draws on Mindy's ten-year process in writing and selling her middle grade novel, Stained Glass Summer.

Please contact Mindy for scheduling, pricing information, or to discuss other workshop topics.
Save