Romance Stories–Cranberry Bay Series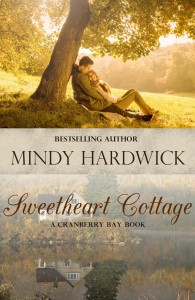 Sweetheart Cottage (A Cranberry Bay Book #1)                                                                                        Sweet Contemporary Romance

Can a bet to save a dying town bring two former high school sweethearts back together for a second chance at romance?
Self-reliant and determined never to fall in love again, Rylee Harper is traveling with her dog, Raisin, to Cranberry Bay, a small Oregon Coast town. She needs to sell her deceased grandmother's house before her meager savings account runs out. Rylee intends to make friends with no one least they discover the family's long-held secret. But when former high school sweetheart, Bryan Shuster, offers her a job staging his vintage river cottages, Rylee finds her guard softening. However, when Bryan's plan threatens to unearth Rylee's shameful family secret, will Rylee run away or will she trust Bryan with her heart and stay?
If you enjoy sewing vintage aprons like Rylee and the sewing circle gals in Sweetheart Cottage, you can read more about vintage aprons on this guest blog post at Killer Crafts and Crafty Killers here.
You can also read heroine, Rylee Harper, share some inside story about Cranberry Bay on this blog post here.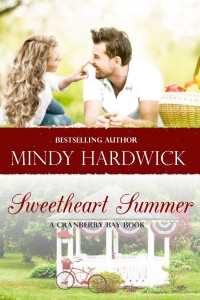 Sweetheart Summer (A Cranberry Bay Book #2)                                                                                                                                                                                  
Can small-town business competitors set aside their differences and find love in the second book in the Cranberry Bay sweet contemporary romance series.
Cranberry Bay sewing shop owner and activist Katie Coos campaigns tirelessly to preserve the community feel of the town she loves. Savvy and successful developer Sawyer Shuster, meanwhile, seeks to provide a future for his beloved childhood community through large-scale developments. When Katie reluctantly purchases an auction certificate for Sawyer's handyman skills, both are determined to keep their distance. But as summer heats up, Katie and Sawyer's feelings ignite until both must find a way to trust each other or risk losing not only their businesses but also their chance at love.

If you'd like to try a pie recipe like the ones Sasha makes in Sweetheart Summer, be sure to read more on this guest post on Killer Crafts and Crafty Killers here.
The Cranberry Bay Romance books can also be purchased at:
Romancing The Home, Gearhart Oregon
Save
Save
Save
Save
Save
Save