Finders Keepers
Finders Keepers (A Picture Book Ap)
J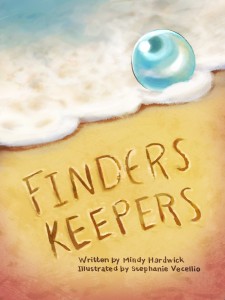 esse is excited to go to the beach with his family and wants to find a glass float hidden along the shoreline. But, when both Dad and sister find a float, Jesse turns up empty handed. It will take a fall wind storm for Jesse to discover sometimes the best floats are found in unexpected ways.
Finders Keepers is based on the event in Lincoln City, Oregon.
Read about Finders Keepers in Lincoln City, Oregon here.
See pictures of real glass floats on the Finders Keepers Pinterest Board here.
View pictures of making a glass float at the Jennifer Sears Hot Glass Shop here.
Watch a video of the Schack Art Center Fresh Paint Float Find in Everett Washington.
Buy Finders Keepers here.