Elf Shoes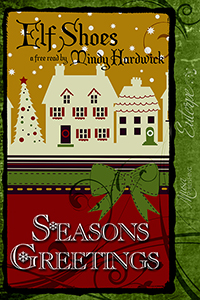 Elf Shoes (A Free Holiday Read from Musa Publishing)
Fourteen-year-old Alexa loves to volunteer as an elf at the Island Santa Workshop but this year her costume elf shoes feel a little too tight. When childhood playmate, sixteen-year-old Samson, turns up to play Santa, Alexa finds herself trying to convince Samson to see her as more than just one of the "boys." Can first love be found this holiday season at Santa's Workshop?
Elf Shoes is a spin-off story to STAINED GLASS SUMMER.
Download as a FREE read in a PDF by clicking the Musa Publishing Link.
Read about my Favorite Holiday Stories at the Euterpe YA Imprint Blog.