Stained Glass Summer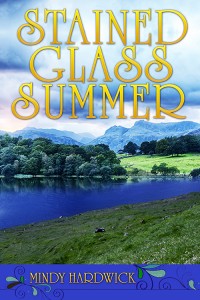 Twelve-year-old Jasmine wants to be an artist. But, can she escape the shadow of her artistic Father to discover her own path as a glass artist?
Synopsis: Twelve-year-old Jasmine adores her photographer Father and wants to be an artist just like him. But when Dad abandons the family, Jasmine is sent to spend the summer with her Uncle on a Pacific Northwest Island. Soon, Jasmine is learning stained glass from island glass artist, Opal, and thinking she might just be developing a crush on Island boy, Cole. But, it's not until Jasmine finds herself mentoring another young artist that she can truly let go of her Father and call herself an artist by her own terms.
Stained Glass Summer Discussion Guide
Stained Glass Summer is a 2013 EPIC eBook Award Finalist in the Children's Category.

"...The author did a great job of making this story relatable, not only to children dealing with the emotions of their parents splitting up, but also to anyone that has dealt with feelings of inadequacy…"–Long and Short Reviews Young Adult
"…Hardwick's setting on the San Juan Islands of Washington State is rich and authentic. The relationship between Jasmine and little Sammy is heart-warming and revealing…."-Goodreads Review

Excerpt
The sound of crunching gravel from the driveway startles me. Who is visiting Uncle Jasper this early in the morning? I glance up, expecting to see Opal again, but suck in my breath as long blue-jean legs and a well-toned body wearing a green shirt rides up on a bike with a large wood board attached to the back. He rides slowly, and I think that the board must be heavy on the bike.
I run my hand through my hair and sniff. Is my conditioner still working from my quick shower last night? I can't smell anything, which might be a good thing; if the conditioner isn't working, at least I don't smell like the musty house.
"Is Jasper here?" the boy asks. He leans his bike against the porch railing and sticks hishands in his pockets. The board looks like it's going to knock the bike over at any minute.
I stare into intense, bright blue eyes with a clear sparkle of light in the center. "In there." I point toward the house. As he looks inside the screen door, I lick my lips. Why didn't I think to wear some make-up, like my frosted lipstick? My bare lips taste sour under my tongue, and my early morning breath isn't much better. I wish I had a mint to shove in my mouth like Mom does every time we go anywhere.
The boy turns around.
And before he stares too long at me or he notices my smelly breath, I stick out my hand. "I'm Jasmine."
"I know." The boy moves back and forth on both feet and the tips of his ears turn red. "I'm Cole."

Blog Posts and Reviews About Stained Glass Summer
My Writing Mentor: Norma Fox Mazer Blog Post on Book Release Day
Hanging onto Wonder Author Interview: Art and Stained Glass Summer
Where Did You Get the Idea for Stained Glass Summer
Character Interview with Jasmine –Musa Blog
Book Review at Victoria Simcox's Blog
Book Review at 5 Girls Book Review Blog
Author Interview–Reading Lark Blog Host
All About Middle Grade Author Interview– The Haunting of Orchid Forsythia  Blog Host
Author Interview — Euterpe YA Imprint Blog
Interview with My Mentee –Euterpe YA Imprint Blog
Local Glass Artists Inspire Stained Glass Summer–Euterpe YA Blog
Mentoring At-Risk Kids Blog Interview–Carrie Pearson Blog Host
Writers Share Author Interview–Amanda Trought Blog Host
Book Review at Owlnestly Reviews
Book Review at Long and Short Reviews Young Adult
Creative Spaces Interview–From the Mixed Up Files of Jennifer Bertman Blog Host
Author Q & A at YA Scribe Blog–Angelina C. Hansen Host
Author Blog Interview About Writing Process of Stained Glass Summer–Sharon Ledwith Blog Host
Author Blog Interview–Derek Thompson Blog Host
Author Blog Interview Stained Glass Summer–Amaleen Ison Host
Author Blog Interview Stained Glass Summer–C.K. Volnek Blog Host
Author Blog Interview Stained Glass Summer-Dianna's Writing Den Blog Host
Blog Interview About Stained Glass Summer–Linda Benson Blog Host
Memory Monday: Books from Bleh to Basically Amazing: Homecoming by Cynthia Voigt
Am I An Artist? Euterpe YA Blog Guest Post
Everett Herald Article About Art Program at Denney Juvenile Justice Center
Lake Stevens Journal Article about Stained Glass Summer
Using Art to Teach Juvenile Detention Teens About Starting Over. Reclaiming Futures Blog Post