Romance Stories–Elmheart Series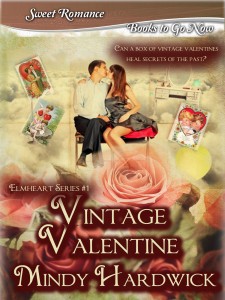 Vintage Valentine (Elmheart Series Novella #1)
Hailey has returned home to the Elmheart Hotel with her ten-year-old daughter. After years away, Hailey is happy to be back and celebrating her grandparent's golden wedding anniversary. But, when Hailey finds former, high school boyfriend, Patrick, working as the hotel's chef, she will have to find a way to tell Patrick the secret she has kept for ten years.
VINTAGE VALENTINE is a sweet, contemporary, romance novella.
History of the Elmheart Hotel.
Vintage Valentines which inspired the story
Writing Short Romance Blog Post–Books To Go Now
Vintage Valentine is also available as part of an anthology, VALENTINES SAY "I LOVE YOU", you can find the Valentine romance anthology here.